Leather + Craft = Leathercraft
Article and Video by Bruce Cheaney
I am so glad you are here we can both have some fun with Leathercraft.  To me Leathercraft is taking raw materials like leather and forming it, shaping it, and tooling and carving it so it serves a purpose or function and has
beauty.  Sometimes simplicity is the way to go just to show off your craftsmanship and other times over the top designs are in order to really make the piece custom with one of a kind uniqueness.
As far as leather tools go you can start out with just a few and add to your collection as you progress with leathercraft.  I suggest you keep it simple at first just get the leather tools you need to get started.
This Leathercraft Forum will have a lot of "How to Videos" that I made and are on YouTube as well as embedded here.  I find it easy to show and tell what I am doing and you will be able to learn quicker with these instructional videos.
Some of the things you will learn here are;
Tooling and Carving Leather
Selection of Leather Tools
Leather Sewing Machine Reviews
How to Make Knife Sheaths
How to Make Guitar Straps
Saddle Making Tips and Tutorials
Where to Find Leather Tools
Best Places to get Leather Supplies
Pencil Drawing Leather Designs
How to Hand Stitch Leather
This list is just the start of things to come here at The Leathercraft Forum.  I know you want to get started with the good stuff so I am going to start off with a series on Leather Tooling and Carving to give you some insight on what is involved in carving leather and doing the background work and decorative cut marks. Once you get the basics of leather carving and tooling down you can hone your skills and practice and the sky is the limit with you and your leathercraft.
BruceCheaney                                                                                                                                                                                                                                                                                                                                                                                                                     Leathercrafter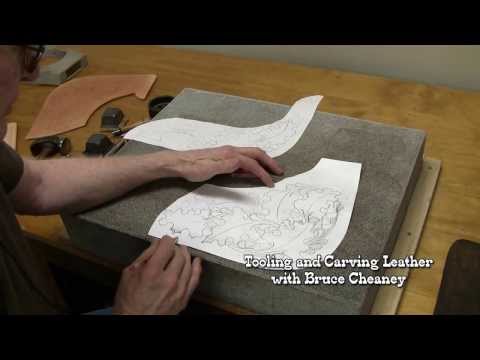 Pencil Drawing – How to draw leather designs
Tips on how to draw an oak leaf design so it will look good on a custom made saddle. The two different patterns shown here were drawn out on white paper so the pattern can then be transferred over to the cased leather that is ready to be carved with a swivel knife.
The Leathercraft Forum is a place you can learn about leather tools, materials and supplies and learn about leather craft itself .  So stay tuned and bookmark this site for things to come here at The Leathercraft Forum for Things to Come.
Here is a Recommended Source about Leathercraft